GB3CJ is the first 10 Metre Repeater in the U.K. and is situated in the town of Northampton, Central England. It has been on the air since September 2000.

It operates from split sites 5 Kilometres apart and uses a 2.3 GHz Synthesized microwave link to connect the sites.

The transmitter which is a converted Tait 495 Miniphone (ex pmr) with a power output of 25 watts rf (14dBw). This unit is installed at the Mounts Fire Station in Northampton Town Centre.

The Receiver is also a Tait 495 Miniphone and is located some 5 Kilometres apart on the North Eastern side of town.

The 10 metre antenna arrangement at both ends are end fed omni directional half wave dipoles.

The 2.3GHz link connection comprises of two helix antennas beaming to the opposite sites.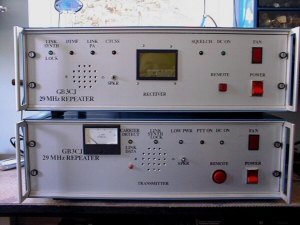 The 10M Repeater